We are very excited to add two more cemeteries to our Sandwell Collection from the West Midlands
Wednesbury Museum and Art Gallery (Image by Brianboru100 - Own work, CC BY-SA 3.0, https://commons.wikimedia.org/w/index.php?curid=25968898)

In 2015, we launched our Sandwell Collection, representing cemeteries in the Black Country. The collection initially consisted of three of the West Midland's largest cemeteries:
Heath Lane Cemetery, West Bromwich, B71 3HR (records from 1858)
Oldbury Cemetery, Smethwick, B66 1QT (records from 1858)
Tipton Cemetery, Alexandra Road, Tipton, DY4 7NP (records from 1873: some records were lost during the war. If your relations were buried between April 18th 1899 and July 18th 1908 or August 24th 1911 and August 20th 1915 there is an index record that they were buried in Tipton Cemetery but it is not possible to establish their address, date of death, age or the grave where they were actually buried, or with whom they were buried).
Last week, January 2020, we extended the collection by adding records from Uplands Cemetery in Smethwick and Wood Green Cemetery in Wednesbury. The original records are held by Sandwell Metropolitan Borough Council in the Black Country. The Deceased Online collection comprises digital scans of the original burial registers and grave details for each of the graves and their occupants.
Uplands also includes a map showing in which section the grave is located.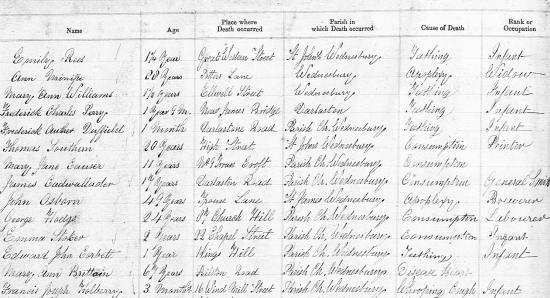 Above: Some of the earlier scans show the cause of death and the occupation of the deceased
There are multiple interpretations of the name Smethwick, historically thought to mean 'smiths' place of work', but recent interpretations suggest that the name is more likely to mean 'settlement on smooth land'. In the Domesday Book, Smethwick was recorded as Smedeuuich. As the Anglo-Saxon pronunciation of D was 'eth', this means that the name has remained largely unchanged for many hundreds of years.
The

Soho Foundry in Smethwick

, opened in 1796 by

James Watt

and

Matthew Boulton

, trading as Boulton, Watt & Sons, was built to produce complete steam engines to Watt's designs.

The Soho Foundry is now the headquarters of the

Avery Company

.

(Image by Oosoom at en.wikipedia - Transferred from en.wikipedia, CC BY-SA 3.0, https://commons.wikimedia.org/w/index.php?curid=4204689)
Wednesbury has a rich local history going back to the earliest medieval times. The first known spelling of the name was Wodensbyri, recorded in 1004AD. Wodensbryi translates as Woden's borough and Wednesbury is one of the few places in the UK still named after a pre-Christian deity. In 1086 the Domesday book described Wadnesburie as a thriving rural community.
The Black Country is renowned for its industrial heritage. During the industrial revolution, the populations of Smethwick and Wednesbury grew around the coal and steel industries, with new railways and canals connecting towns and people, and new factories providing work. Around half my family is from the Black Country and several of my ancestors worked in the coal and steel industries.
The full collection of Sandwell records available to view on Deceased Online includes:
Fallings Heath Cemetery
Heath Lane Cemetery
Oldbury Cemetery
Rowley Regis Cemetery
Rowley Regis Crematorium
Sandwell Valley Crematorium
Tipton Cemetery
Uplands Cemetery
Wood Green Cemetery
Other local records in the region are available on Deceased Online courtesy of the National Archives for the West Midlands.
Look out for more than 1,000,000 burial and cremation records from authorities in London, the West and East Midlands, and the East of England. Coming soon!
Do you, like me, have ancestors from the Black Country? Have you found any in our Sandwell Collection? We love to hear from you, whether in the Comments Box below, or on our Facebook and Twitter pages!