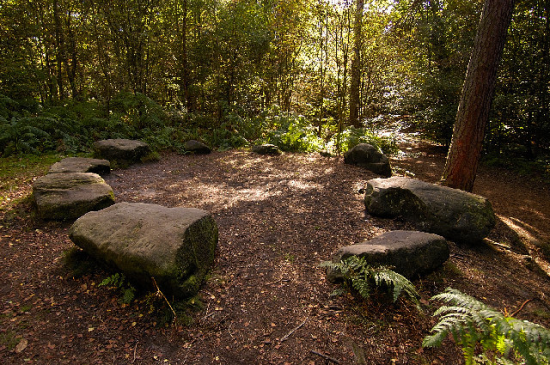 Above: the stone Druid's circle at Alderley Edge
Alderley Edge, Knutsford, and Wilmslow in Cheshire are all areas of rich and diverse history, with many local legends, listed buildings, and traditions.
Alderley Edge has been occupied since the Mesolithic period. Flint implements have been found in the area, and nearby there is evidence of Bronze Age copper mining. In 1995 the Derbyshire Caving Club found a collection of Roman coins dating from AD 317 to AD 336. The name Alderley appeared in 1086 as 'Aldredelie'. "The Edge" is a wide red sandstone escarpment situated above the village and is owned and maintained by the National Trust.
Above: Mines at Alderley Edge
Knutsford is well known for its Royal May Day festival, an event in which hundreds of people parade through the streets and the May Queen is crowned. In another Mayday custom, residents decorate the streets of the town with coloured sand. In 1832 Queen Victoria noted this tradition in her diary, saying: "We arrived at Knutsford, where we were most civilly received, the streets being sanded in shapes which is peculiar to this town."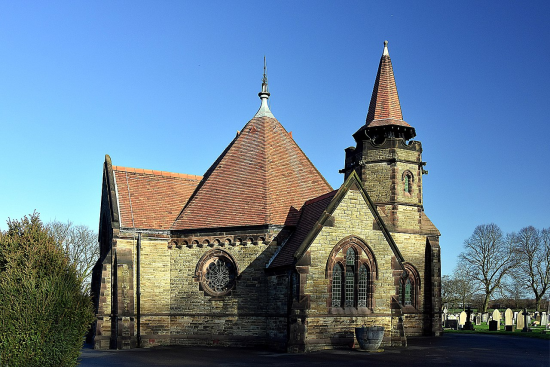 Above: the unusual octagonal chapel at Knutsford Cemetery
Wilmslow is the home of the Lindow Man, an iron age man preserved in the peat bogs of Lindow Moss for 2,000 years. The Lindow Man represents one of the most important Iron Age finds in the country. He was transferred to the British Museum, despite a campaign to keep him locally, and takes centre stage in the Iron Age exhibition. Lindow Common, a rare lowland heathland and one of the world's most threatened habitats, is a Site of Special Scientific Interest and is designated a local nature reserve. Also, the area features many beautiful parks, most notably The Carrs Park.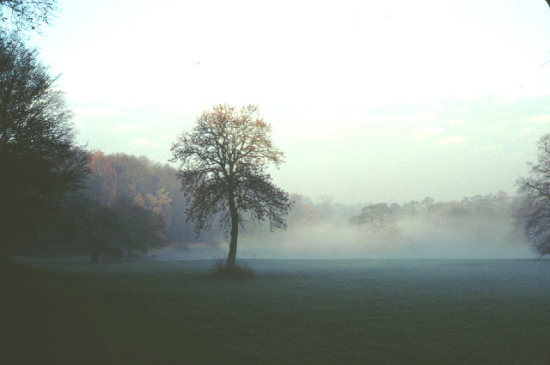 Above: The Carrs Park at Wilmslow
The records for these three cemeteries comprise scans of the original burial registers and details of those buried in the same grave. The complete collection of
Cheshire East
cemeteries and crematoria available to view on Deceased Online are:
Congleton Cemetery
Coppenhall Cemetery
Crewe Cemetery
Nantwich Cemetery
Sandbach Cemetery
Weston Cemetery
Macclesfield Cemetery
Alderley Edge Cemetery
Knutsford Cemetery
Wilmslow Cemetery
Crewe Crematorium
Macclesfield Crematorium
We hope you have enjoyed learning about all the cemeteries and crematoria in our Cheshire East Collection. We would love to hear of any of your ancestors or other interesting people whose records you have found therein. Please do leave a comment in the box below, or contact us via our Facebook or Twitter pages!
Further information:
Other records local to the region are available on Deceased Online courtesy of: