Our recent newsletter explores the lives of some of the authors and poets in the Deceased Online database.
The text of the newsletter is as follows . . .
One of our earliest contributed records is that of
James Matthew Barrie (1860 to 1937),
buried in
Kirriemuir Cemetery in Angus, Scotland
. Barrie was a Scottish novelist and playwright. The place of his birth on Brechin Road in Kirriemuir is maintained as a museum by the Scottish National Trust. "Peter Pan", a tale known throughout the world, is the most well known of his creations. Although Barrie originally wished to pursue a career as an author, he wrote mostly for the theatre and enjoyed a great deal of success. He married young actress Mary Ansell, whom he'd met through his third play, "Walker, London", in 1891, although the marriage ended in divorce some years later. In December 1904, "Peter Pan, or The Boy Who Wouldn't Grow Up" hit the stage, to much critical acclaim, and in 1911 Barrie developed the play into the novel, "Peter Pan and Wendy". In 1929 Barrie gave the copyright of all of the Peter Pan works to Great Ormond Street Hospital. Barrie died of pneumonia in Marylebone in June 1937.
Above: a plate from "Peter Pan", and James Matthew Barrie's headstone
The eminent poet and artist William Blake (1757 to 1827) rests in Bunhill Cemetery, London. Blake's works display a spiritual imagination and expressive creativity but, as with so many artists and writers of the past, his work was largely unrecognised during his lifetime. He generally earned a living by printing and engraving for the works of others. He held views which his contemporaries at the time considered quite mad, such as a strong commitment to Christianity coupled with intense hostility to most forms of organised religion, even the Church of England. Blake attended school until he was only ten years old, and found exposure to classical art forms through drawings of Greek antiquities purchased for him by his father. He married Catherine Boucher in Battersea in 1782. Illiterate when they met, Blake taught her to read and write, and also trained her to engrave. Their marriage was close throughout their lives, with Catherine helping to print his works and buoying him throughout adversity. Blake died in 1827 and was joined by his beloved wife in 1831.
Above: a portrait of Blake from "Poetical works of William Blake" (Sampson, 1913), and a printed plate of short poems
Mary Ann Evans (1819 to 1880), one of the most prominent writers of the Victorian era, is buried in London's Highgate Cemetery. Evans is better known by her pen name, George Eliot, which she chose in order to escape the stereotype of women's writing being limited to romances - of which she was known to be highly critical. She wrote seven novels, perhaps the most famous of which is "Middlemarch"; heralded on multiple occasions as the greatest novel in English fiction. Evans was born in Nuneaton and soon displayed a high level of intelligence, leading her father to invest in a level of education for her that was not normally afforded to girls of the time. Once her education finished at age sixteen, she carried on teaching herself in the library of Arbury Hall, the estate on which her father worked. Evans met George Lewes, a philosopher and critic, in 1851. Although Lewes was already married, he and Evans decided to live together in 1854 and, after his death in 1878, Evans legally changed her name to Evans-Lewes. Evans wrote various manifestos and essays, and her first novel, "Adam Bede" was published in 1859. Queen Victoria was so impressed with this novel that she commissioned artist Edward Henry Corbould to paint scenes from it. In May of 1880, Evans married John Walter Cross, changing her name to Mary Ann Cross, and in the following December, she died aged 61.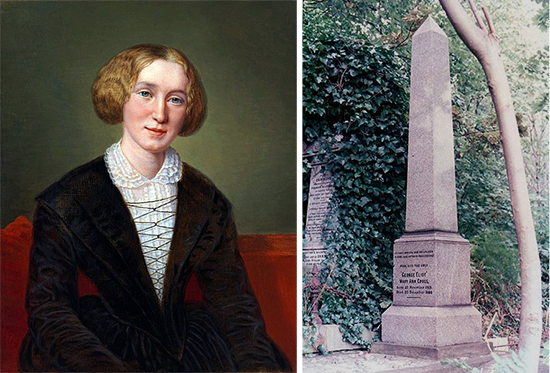 Above: a painting of Eliot by François D'Albert Durade, and her headstone