In our latest email, we celebrated Artists in the Deceased Online database. The text of the email is as follows . . .
Norwich City's Rosary Cemetery,
published two weeks ago on
www.deceasedonline.com
, provides the final resting place of a number of members of the Norwich School of Painters.
James Stark (1794 to 1859)
, an English landscape painter, was a leading member of the group. In 1828 he became the vice-president of the
Norwich Society for Artists
, and went on to become their president in the following year. He enjoyed a successful career in both Norfolk and London.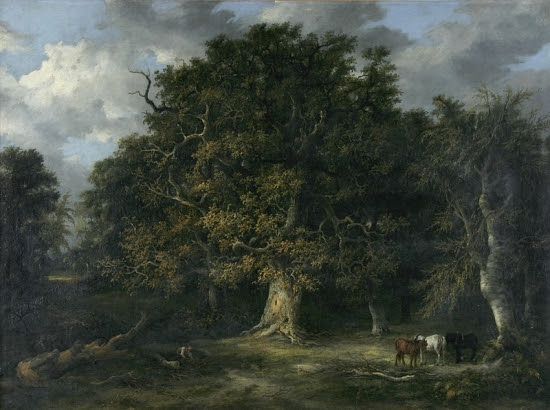 Above: "The Forest Oak" (1843) by James Stark
John Thirtle (1777 to 1839), another of Norwich's successful painters, also rests in Rosary Cemetery. Thirtle was a leading member of the Norwich School of Painters, and his paintings are generally considered to be outstanding examples of historical watercolours. Sadly, a lifelong battle against tuberculosis meant he produced relatively few works, exhibiting less than one hundred paintings over his lifetime.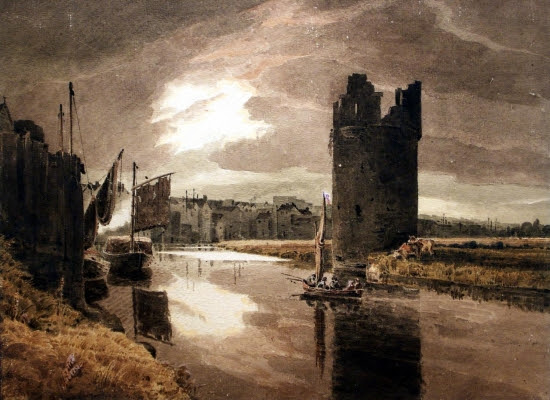 Above: "Devil's Tower near King Street Gates - Evening" by John Thirtle, watercolour on paper
Brompton Cemetery
in London also boasts its share of artists. Edward Alexander Wadsworth ARA (1889 to 1949) is buried there, an artist famous for his close association with Vorticism, a modernist movement inspired by Cubism. Vorticism favoured angular, geometric shapes leaning towards abstraction. Although very similar to the modern, dynamic shapes of Futurism, Vorticism differs by attempts to paint movement. During the First World War, Wadsworth supervised the application of dazzle camouflage - a method of painting ships with bold geometric shapes intended to break up their outline and confuse the enemy - to over 2,000 Royal Navy ships.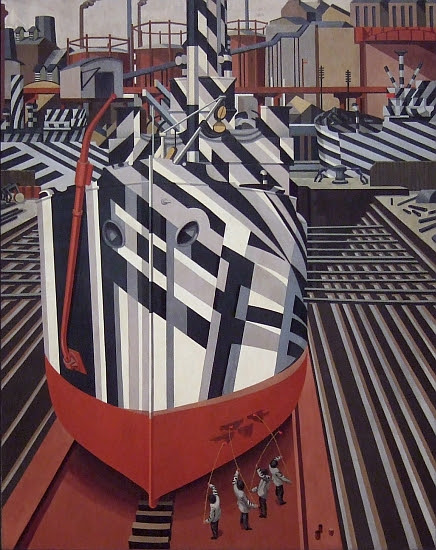 Above: "Dazzle Ships in Dry Dock at Liverpool" (1919) by Edward Alexander Wadsworth ARA
James Duffield Harding (1798 to 1863) rests in Brompton Cemetery and was an English landscape artist, lithographer, and author. James Duffield Harding used tinted papers and opaque paints, particularly white, to create his works. This was particularly notable as, with watercolour, it is more common practice to leave the white paper showing for white areas and the use of an opaque white paint is unusual. He authored many educational art manuals which were read both in Britain and abroad. From 1830 to around 1910, the well-known art supplies manufacturer Winsor and Newton produced a range of papers bearing James Duffield Harding's name, which the artist used himself.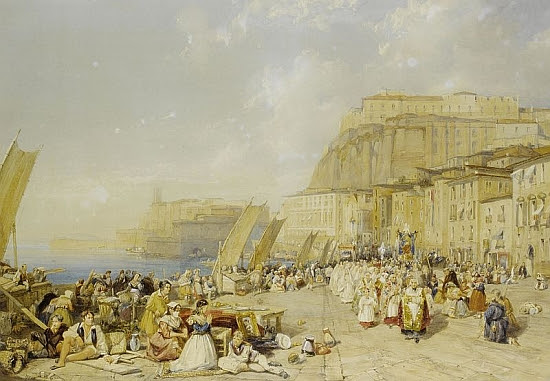 Above: "Procession of the Feast of Corpus Christi" by James Duffield Harding, watercolour heightened with white
In
Brockley Cemetery
, Lewisham, rests Horatio Henry Couldery (1832–1918), a well known and much loved Victorian painter of domestic animals. His charming, whimsical, but highly detailed work was much admired. He worked originally as a cabinet maker before studying art at the Royal Academy of Arts, exhibiting his first piece there in 1861. He enjoyed a successful art career, undertaking many commissions as well as illustrating children's books and greetings cards.
Above: "An Oyster Supper" (1882) by Horatio Henry Couldery, oil on wood
David Roberts RA RBA (1796 to 1864) rests in
West Norwood Cemetery
, Lambeth. Roberts was a Scottish painter known for his oil paintings and lithographic prints depicting the Middle East. His career in art began with painting scenery and sets for various circus and theatre productions. For his first job in the field, Roberts was paid 25 shillings a week to travel with James Bannister's Circus as their stage scenery designer and painter. Eventually, J M W Turner encouraged Roberts to give up scenery painting and become a full-time artist. Roberts travelled to Spain, then in 1838 to Egypt and Palestine, producing a vast collection of drawings and paintings before his return to the UK in 1840.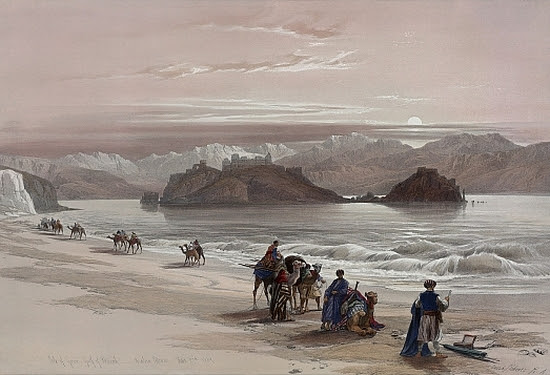 Above: "Isle of Graia" (1839) by David Roberts RA RBA
William Collingwood Smith RWS (1815 to 1887), a noted watercolourist who studied under James Duffield Harding (above) rests in West Norwood Cemetery along with his wife and son. He was a prolific painter of landscapes and marine scenes and produced more than a thousand paintings and drawings over his lifetime. William Collingwood Smith was also a highly sought-after tutor of art and a member of various societies such as the Society of Painters in Water Colours (which became the Royal Watercolour Society) and the New Society of Painters in Water Colours (which became the Royal Institute of Painters in Water Colours). Both societies challenged the Royal Academy's refusal to accept watercolour as a serious painting medium.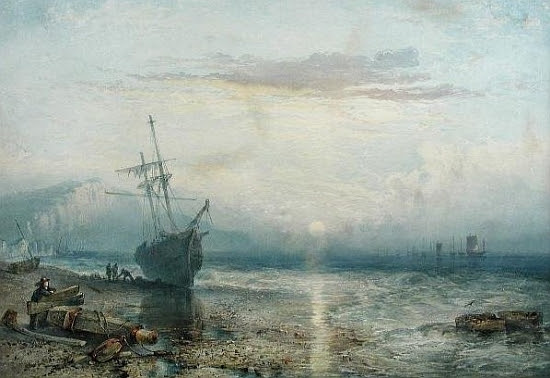 Above: "A Beached Sailing Ship, with Hastings Beyond" by William Collingwood Smith, watercolour