This week we continue our series looking at epitaphs - those final words that help to immortalize our forebears in cemeteries.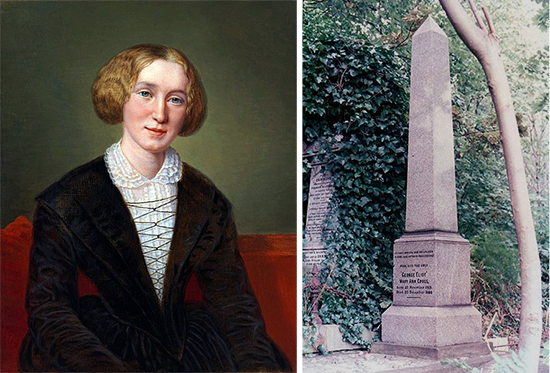 Above: a painting of Eliot by François D'Albert Durade, and her headstone
Numerous literary giants can be found in the burial and cremation registers on the Deceased Online website. One of the famous literary epitaphs is that of George Eliot in Highgate Cemetery, north London:
"Of those immortal dead who live again
In minds made better by their presence"
Here lies the body of "George Eliot"
Mary Ann Cross
George Eliot
(1819 to 1880),
o
ne of the most prominent writers of the Victorian era,
was buried in Highgate East Cemetery. Although she was baptised "Mary-Anne Evans", the novelist's later married name of Mary Ann Cross is inscribed on her headstone below that of her pen-name. Born in Nuneaton, Warwickshire, Eliot left home after her father's death in 1849, and after travelling in Europe, she settled in London.
Living and working in literary circles, Eliot met
George Henry Lewes (1817-1878), a literary critic and philosopher, who encouraged her writing. She used the male name, "George Eliot", to ensure that her writing would be taken seriously by contemporary publishers, many of whom were often resistant to female novels. She wrote seven novels, with her first, Adam Bede, being published in 1859. This was followed by The Mill on the Floss, Silas Marner, Romola, the seminal Middlemarch, and Daniel Deronda. The two lived together but were shunned by many as Lewes was already married. After Lewes died in 1878, Eliot legally changed her name to Evans-Lewes. She went on to marry John Walter Cross in 1880. In December of the same year, Eliot died at the age of 61. She lies buried with George Henry Lewes in his grave at Highgate.
Eliot left a strong literary legacy, with
Middlemarch
being hailed by many as the most influential novel in the English language. In
The Common Reader,
Virginia Woolf described the
Middlemarch
as, "one of the few English novels written for grown-up people". Her novels are noted for their social realism, with heroes that come from outside society, and often have a political emphasis. She depicted rural society as well as some of the difficulties of small-town life, such as gossip and ostracism of the unconventional. Outside of novels, Eliot worked as a translator and she also wrote poetry.