The addition of Exeter City Council's Higher Cemetery, first opened in 1866, is now available to view on www.deceasedonline.com. The records comprise computerised burial records, section maps showing the approximate location of graves in the cemeteries, and details of other grave occupants.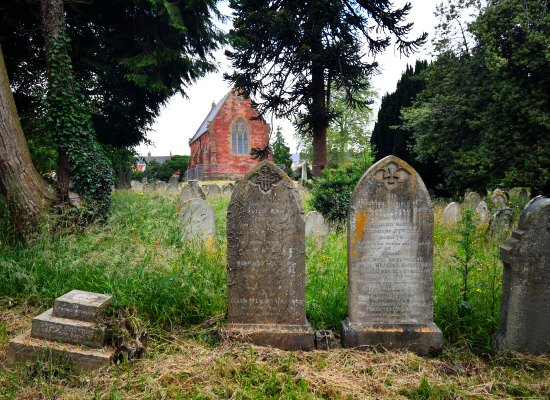 Above: Higher Cemetery
Higher Cemetery provides the last resting place for a great many victims of the Theatre Royal Fire of 1887. 186 people died on the night of the 5th of September 1887 when a naked flame ignited drapery and, due to the poorly designed exits, they were unable to escape the fire. Most of them are buried in Higher Cemetery under a memorial cross designed by Harry Hems. Henry Setter of the West of England Fire and Life Insurance Company attended the fire and was on duty for a continuous 16 hours. Setter survived that night but sadly suffered a seizure later that month and died a few days later. His coffin was carried by his fellow fireman and he was buried in Higher Cemetery.
Above: Higher Cemetery
Robert Pople, Landlord of the New London Inn responded quickly to the outbreak of the fire at the Theatre Royal, supplying ladders and helping people to escape the flames. Pople gave refuge to the survivors in his hotel, and opened the stables to allow for laying out the deceased. Under the management of Pople the New London Inn became the place to stay in Exeter, and was frequented by many celebrities and royalty of the time. Pople became involved in politics 1869, was appointed Sherrif of the City in 1891, Alderman in 1894, and eventually served as Mayor for three years. He died in 1909.
Above: Higher Cemetery
One of the early suffragists, Lady Deborah Bowring (née Castle), is buried in Higher Cemetery with her husband Sir John Bowring. Deborah Bowring became Vice-President of the Bristol and West of England Society for Women's Suffrage in 1871 and campaigned tirelessly for women's rights until her death in 1902. She had also been the Honorary Secretary of the Exeter Ladies branch of the RSPCA. Sir John Bowring was a political economist, poet, and hymn writer twenty years Deborah's senior. He was the MP for Bolton for three years before becoming the fourth governor of Hong Kong in 1854. He received many honours, including the Knight Commander of the Order of the Bath, before he died in 1872.
We're working hard on records from authorities in the East Midlands, London, the West Midlands, and the South East of England. Our recent Twitter poll showed that most of you are looking forward to seeing our new London records.
We would love to hear about the ancestors you find in our new collection. We'd also like to hear your thoughts on the new collections. Do let us know about them in the Comments Box below or on our Facebook and Twitter pages.